Several weeks ago, I came across something I almost never find on our local Craigslist, even though I check it often. Danish modern dining room furniture that I immediately recognized as made by Stanley (in North Carolina). Dining table, four chairs, and a hutch. They had been for sale for an astounding $140 ($70 for table and chairs, $70 for hutch) and had not sold, so the price was reduced to $70 for all.
I called as soon as I saw them and asked if I could visit to measure the hutch. It looked like it would be too big for my small dining area, but you can't really tell looking at an image online. I also messaged with another MCM fan in town who's on the same Facebook groups. She really wanted the hutch, but didn't need the table and chairs, so we agreed to a joint purchase. She had to work that day, and I'm a retired ol' broad, plus I have a pickup truck... So I arranged to go get the booty...
Unfortunately, circumstances kept me busy and I didn't get to the seller's house until about 2 p.m., and she had sold the hutch. She was anxious to get rid of the table and chairs, though, and she took me up on my offer to buy them for $30.
Stanley dining table and chairs -- and the hutch that got away.
So now I'm the proud owner of TWO sets of Stanley Danish modern chairs. I really like best the ones I already had, so I will keep them. I will sell the new ones, and since the table is too big for my space, I will sell it, too.
But first, I'll do some improvement. The tabletop is laminate, and in great shape, but the legs and apron could use some Finish Renew. The chairs are wobbly and need to be reglued. The chair seats have been (poorly) covered with black vinyl. That needs to come off. If the original upholstery fabric isn't salvageable, I will recover the seats in an MCM bloucle, if I can find some that won't break the bank. Color? As close as possible to whatever is under the black vinyl.
My other chairs also need to be re-glued, and completely refinished. I bought them for next to nothing at a junk shop on T Street several years ago, and they are truly lovely.
Beneath the blue linen-like fabric, the original seat fabric is a heavy-weave yellow. I'm not sure I want to replicate that closely, however. Not sure what color I'll use.
The table I bought to go with them, however, is not MCM or DM, though it's a beautiful wood thing. It needs refinishing -- and then replacing, if I go with these chairs.
And once the newcomer set is finished and sold, if I can't find a Danish modern dining table small enough for my space, I want to see about building one.
One like this.
A Ventura table.
You might not be able to tell from the picture, but the legs of the blue-seat chairs are rectangular, not round like the new ones. And a Ventura table would look perfect with them. What's a Ventura table? Here's a pic: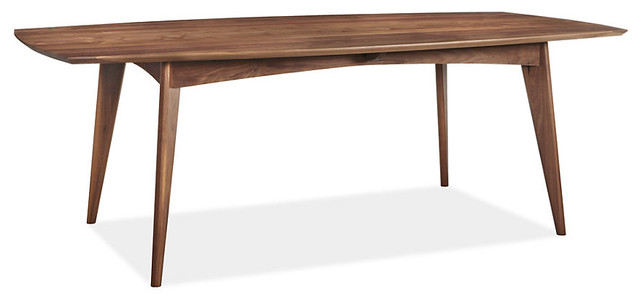 Here's a picture of one in use at Houzz:
Ventura table
Those rectangular legs would look great with my blue-seat chairs, wouldn't they?
Since all the Ventura dining tables I've found online are like $1,200, I will try to persuade my husband to help me build one. I've been checking online for woodworking plans for a Ventura table, but if I can't find any, it shouldn't be too hard to figure out ourselves. Standard table heights, leg fasteners, info on all this is available online.
Any table we built would not have the surf-board top like the one illustrated above... but many I've found online have flat, rectangular tops, and some of them are a bit clunkier that this beauty. The advantage to building one, aside from the satisfaction of it, and the money saved, is that it can be built to measurements that fit comfortably in my dining space.
In addition to the two sets of walnut Stanley Danish modern chairs, I also have this really groovy set of MCM chairs made by Chromcraft (in Mississippi -- I do love Suth'n modern furniture!). If memory serves, I paid $36 for this dinette set at a junk shop in Warrington around 2006 or so. The table doesn't match the chairs (you can't see them in this pic, but the legs have Spanish "wrought iron" curlicue braces). On one of the chairs, the small decorative screws that fasten the back to the metal frame are missing, and on another the laminate on the back has chipped off in one corner. These should be easily remedied/repaired -- and I have a set of tapered metal legs that are just waiting for some metallic brown paint and a new tabletop -- I'm thinking beigy Formica the same color as the chair seats...
What am I gonna do with three dinette sets when I barely have room for one? Well, like I said, the newbie will be fixed up and sold. Then I'll have to decide between lovely walnut DM chairs, or groovy laminate chairs ... and tables to match.